Jacqui Captures 4th XTERRA NZ Title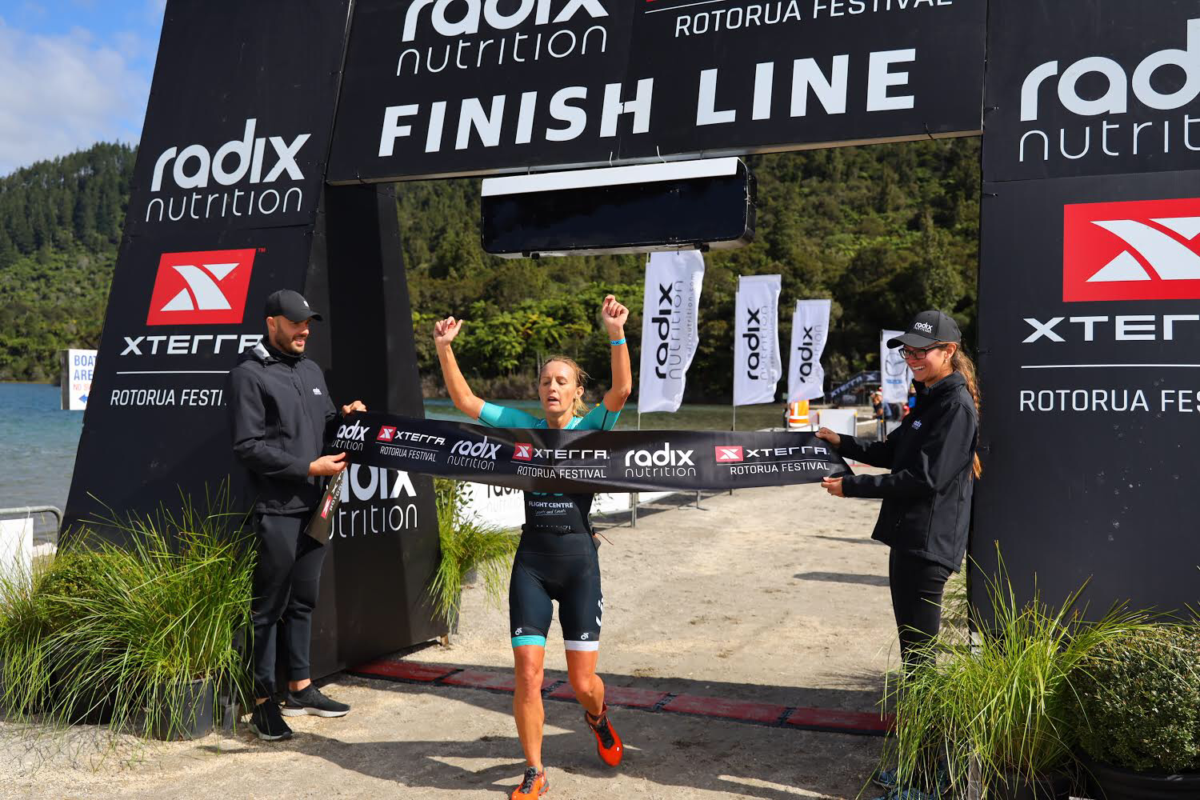 Jacqui Allen captured the 17th annual XTERRA New Zealand off-road triathlon elite titles in Rotorua on Saturday, April 6, 2019.
It's the fourth time for Allen on the top step in Rotorua dating back to her first-ever XTERRA win here in 2012.
In the women's race Jacqui Allen and Penny Slater from Australia went shoulder-to-shoulder for the second week in a row. Last week it was at the XTERRA Asia-Pacific Championship race in Taiwan, where Slater (who is coached by Allen) won the first major of her career.
"I wasn't going to let Penny steal this one," smiled Allen. "This 3-peat is so special, I never thought I'd be the kind of athlete to do it."
Allen got the early jump in the swim, then rode clean and strong by herself for most of the ride until Slater caught on.
"I had a better swim this week, learned from last week," said Allen. "I also played a better tactical game. I didn't waste energy on the bike, rode the technical sections well. Still, I could see Penny was catching me on the bike the last six kilometers or so. It was super windy out there today, and she is powerful through the wind. At that point I eased back and let her catch on, knew it would come down to the run, which suits me here."
Slater took the lead on the bike in the last kilometer, blitzed through the bike-to-run transition and headed out on the run about 20-meters ahead of Slack.
"When I saw Jacqui at the end of the bike, I knew I had to catch her and get in front for a chance at the win," said Slater, the reigning XTERRA Asia-Pacific Champion. "We pretty much ran shoulder to shoulder until the 8K mark, and she just put the hammer down and I had nothing. Credit to her, she absolutely killed it today. I think we're both super happy that we could put on a really good show for everyone."
Allen took advantage of the last downhill to create a gap then ran for the three-peat.
"It's great to have that feeling that you can go and run really fast when you need to," said Allen. "I was breathing hard all the way to the finish line but kept running faster. The run course is so fast and flowy, it plays to my strength. And there were so many people cheering. I'm not sure what it is about this race for me. I like it for so many reasons, because it starts at 11:30, and I'm not really a morning person so that helps. And it's cooler than a lot of the other races, and the trails are like what I grew up riding in the UK, it just all comes together."
Allen crossed the line in 2:29:42, 16-seconds ahead of Slater.  Kiwi Samantha Kingsford finished in third, with Morgan Riou from France in fourth, and Rachel Challis of New Zealand fifth.
Elite Women's Results
| | | | |
| --- | --- | --- | --- |
| Pos | Name, NAT | Time | Points |
| 1 | Jacqui Allen, AUS | 2:29:42 | 75 |
| 2 | Penny Slater, AUS | 2:29:58 | 67 |
| 3 | Samantha Kingsford, NZL | 2:38:42 | 61 |
| 4 | Morgane Riou, FRA | 2:41:00 | 56 |
| 5 | Rachel Challis, NZL | 2:43:12 | 51 |
| 6 | Lydia Hale, NZL | 2:48:54 | 47 |